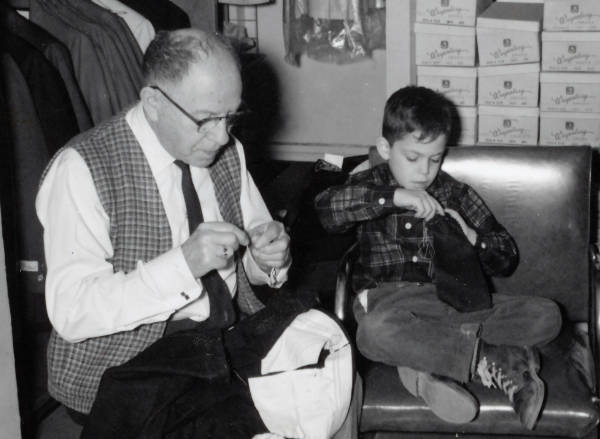 The current owner Alan Sidel learning the trade from his grandfather, Archie Sidel.
Don's Group Attire was originally Don's Men's Shop, a men's fine clothing store located in downtown Seattle. The business was opened in 1946 by Archie Sidelsky a tailor and his son Don Sidelsky , but that's only half the story…
In 1892, Archie's Brother Lou, emigrated from Russia and came to Seattle. He was a tailor. In 1895 Lou sent for the rest of the family and Archie at the age of 5, along with his mother father and younger sister immigrated to Seattle. By the end of the 8th grade Archie's brother Lou had taught Archie the trade of being a tailor.
Soon Archie was working for his brother in at the Imperial Clothing Company in downtown Seattle, making custom wool suits, with two pairs of pants. They would take measurements, and lay the customer down on a piece of butcher paper to trace their outline, and for $15.00, their new suit was ready in a week.
In 1909 Seattle celebrated the Alaska Yukon Expo, and Lou and Archie were part of making uniforms for the event. 53 years later Don and Archie at Don's Men's Shop would outfit the entire Seattle World's Fair with blue blazers with Century 21 patches on the chest!
Eventually in the 20's, Archie's Brother Lou went to find his fortune in Los Angeles, and Archie ventured out and opened his own Cleaning Pressing and Tailor Shop. He would take in cleaning, tag it and send it off to the Chinese laundry. They would return it all bundled up, and Archie would steam press and hang each item.
World War 2 broke out, and at the age of 22 Archie's youngest son, Don soon found himself being shipped off to India to help the war effort.
In 1946, when Don got out of the service, he and Archie opened DONS MEN'S SHOP. A fine men's clothing store, located on 3rd and Seneca, in downtown Seattle.
Their idea was to open a men's clothing store in downtown Seattle, and cater to the younger crowd of college and high School kids, while still serving the business crowd. At the time, shopping in the suburbs didn't really exist, and most people would venture downtown for their shopping.
Dons was starting to get into the group outfitting business, and in 1960 he outfitted the Washington Husky Football team with traveling blazer for the trip to the 1961 Rose Bowl. The #6 ranked Huskies defeated the top-ranked #1 Minnesota Golden Gophers, 17-7.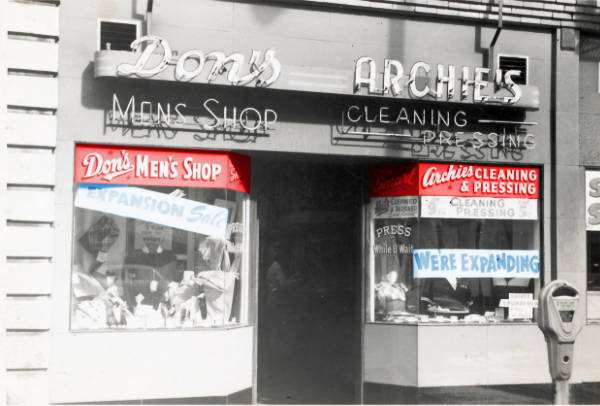 The original storefront.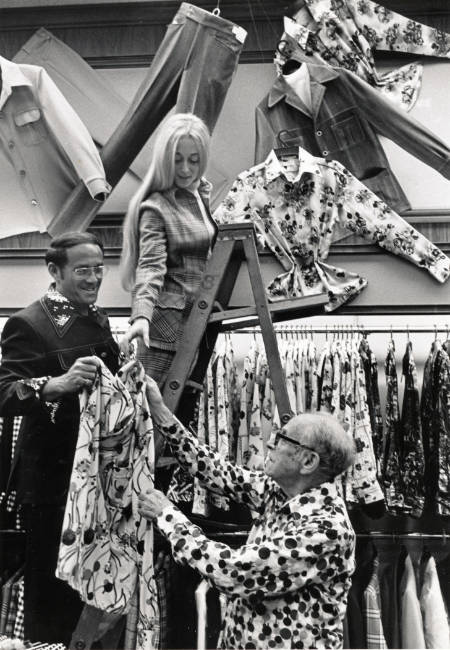 The 70's was a different time for fashion...
In 1969 Dons needed more space and moved to 3rd and Union. This is now the location of the Benaroya Music Hall.
In 1978 Don moved to what would be the last location for Don's Men's Shop. This was across the street from the Bon Marche. Downtown had become dead in the late 70's, with everyone now shopping at the malls. Two years later this location would be condemned to make way for the Westlake Mall.
Don had a vision. That the group uniform business he'd had been doing for the last 25 years, could become a prime business in itself.
With that Don gave up on retail, and opened a small store front on North Aurora. Don and and his wife Marilyn ran Don's Group Attire through the 80's.
In 1990 Don's son Alan joined the business. At this time Don's added computerized embroidery machines, and brought the production in house, and by 1998 we had outgrown our location out on Aurora Ave.
In 1999 we built our current location in the Georgetown district of south Seattle. Don's 2nd Son Art quit the Hotel business and moved back to Seattle and became a partner in the business.
Today we continue to strive to supply our customers with the highest quality garments and the best logo decoration possible.